(updated 2/17/08) The bike has been sold.
A guy on Ebay is selling his 2000 Suzuki Katana Pro Stock Bike complete with engine. At the time of this posting, the price has only been bid to $3,550.00. The poor guy made his wife mad and has to sell it to maintain domestic tranquility. His loss could be your gain if you are looking to go drag racing on a NHRA Pro Stock Motorcycle, its for sale at a low price.
Click on the picture to see more photos and read more about the bike.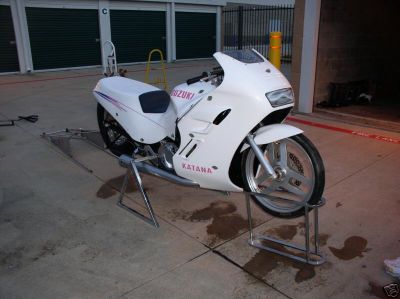 The owner believes the bike has a Koenig chassis and states that the front end is definitely from Koenig.
The bike has a 1600CC mountain motor, MTC block, ART LOCK UP, Lectron Carburetors, and a 1-2-3 auto transmission.
See the bike and learn more about it.