AHDRA's Screamin' Eagle Championship Series received some press in the Waxahachie Daily Light about this weekend's race in Texas.
ENNIS - AHDRA's Screamin' Eagle Championship Series is headed to the Texas Motorplex with some giant sized-action, including nitro Harleys, pro stocks, pro mods, V-rods, all of which can accelerate to at least 225 mph.

There are also heads-up competition, index racing and ET bracket racing scheduled...
For the first time, the campgrounds next to track were opened for racers and fans to camp at during the weekend.
The Old Glory AHDRA Pro Stock / Pro Gas Buell motorcycle has been listed for sale on eBay. The bike was owned by Jim "Homer" Simpson, who passed away earlier this year. The bike ran a record ET of 7.399 seconds at the 2005 Kresto Pacific Nationals, Pacific Raceways, Seattle. The pilot of this bike was Dale Raudenbush.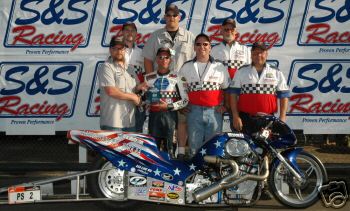 The bike is powered by a 5" bore x 4.075" stroke, 160 c.i. fuel injected V-twin. The bike is listed as ready to go with only one run on the motor, spare parts, and the tuning records. Click here for more information on this drag bike, the technical details and the spare parts included.
Good news for four-time AHDRA champion Junior Pippin: PiranaZ has signed on as a sponsor of his Granite Mountain Harley-Davidson and Stone Mountain Harley-Davidson Pro Stock Motorcycle race team for the 2008 NHRA POWERade Drag Racing Series.
From NHRA:
"We were looking to do a bike and had negotiated with other teams,"said Mark Whisnant, owner of PiranaZ. "We decided that [Junior Pippin Racing] was a good fit."
The countdown clock continues to draw closer to the All Harley Drag Racing Association (AHDRA) season opener in Gainesville, FL on February 29th-March 2nd.
The anticipation is building for racers and fans alike as they prepare for the first burnout and the first quarter-mile pass at the Screamin' Eagle Performance Parts Bike Week Nationals presented by Gainesville Harley-Davidson.
With a huge contingent of competitors expected at the 2008 opening event, AHDRA as prepared a full schedule that will include...
Read the full story at AHDRA to get all the details of the season opener.
Successful AHDRA drag racer Valerie Thompson will now race in the NHRA Pro Stock Motorcycle Class, viewed as a step up in the drag racing world. She will pilot an S&S G2 Buell in all rounds of this leading drag racing series...
Read the full story at Woman Riders Now
From Valerie's website:
My new crew chief; Gary Tonglet has me on a very strict training program. Were making many hot laps and will be ready for Gainesville on the EYE-ON S&S Buell. Check out some testing pictures here.
When we find drag racing tickets for sale at great prices, we will list them here. Low priced resale tickets to NHRA drag races are usually the easiest to find. Clicking on the links below will open a description of the NHRA tickets for sale on eBay in a new window.
| | |
| --- | --- |
| Choose your country: | Change Sort Order: |
Rockingham Dragway, which already hosts the final event in the IHRA's Knoll Gas Nitro Jam Drag Racing Series, scored another coup this week with the announcement by the All-Harley Drag Racing Association that the track will be the site in 2008 of the climactic final event in the nation's premier Harley-Davidson motorcycle series. ...
The March 29-30 race in Phoenix will be held at Speedworld Dragstrip in Wittman, AZ, instead of Firebird Raceway.
AHDRA has announced that it cancelled the previously scheduled events in Pomona, CA and Las Vegas, NV, in 2008. The Las Vegas race had a scheduling conflict with another event at Las Vegas Motor Speedway. Canceling Las Vegas impacted the tour and Pomona had to be cancelled too. The last event of the season will now be at Rockingham Dragway, Rockingham, NC October 10-12, 2008.
More information can be found at AHDRA