Doug Horne, riding his Horne Racing Buell, was the number one qualifier in Pro Stock Motorcycle for Sunday's NHRA Full Throttle Drag Racing Series, 12th annual United Association Route 66 NHRA Nationals in Chicago, IL. Horne ran 6.936 second elapsed time at 191.84 MPH in the first round of qualifying on Friday. Horne will face off in the first round of eliminations on Sunday against Wesley Wells on his Kendall Suzuki.
This is the first weekend with the new weight rule for Harley Davidson powered bikes. The rule increased the minimum weight of the four valve Harley's from 620 pounds to 640 pounds. Buell powered bikes still have a 625 pound minimum weight and Suzuki bikes remain at 595 pounds. As a result of the new weight rule, the two fastest qualifiers were on Buells, and the next two fastest were on Suzukis. Andrew Hines qualified fifth on his Screamin' Eagle Vance & Hines Harley Davidson, with a 6.989 second E.T. at 191 MPH. Only the top five bikes broke the seven second barrier in qualifying.
Rookie Katie Sullivan qualified 14th for the Route 66 Nationals on Saturday. Sullivan, racing out of Corning, California, on her Gann Custom/Sullivan Racing Suzuki ran a 7.113 second E.T. at 187.23 MPH in the third round of qualifying. She will face third fastest qualifier Karen Stoffer in Sunday's first round of eliminations.
Rider Team & Bike E.T. MPH
1. Douglas Horne Horne Racing Buell 6.936 191.84
2. Hector Arana Lucas Oil Buell 6.954 191.89
3. Karen Stoffer Geico Suzuki 6.971 192.33
4. Matt Smith Nitrofish Suzuki 6.978 190.62
5. Andrew Hines Screamin' Eagle/Vance & Hines 6.989 191.00
6. Steve Johnson Steve Johnson Racing Wyotech Suzuki 7.001 194.07
7. Craig Treble Team Scream Suzuki 7.001 192.80
8. David Hope VRoom Racing Buell 7.005 188.99
9. Eddie Krawiec Screamin' Eagle/Vance & Hines 7.011 189.04
10. Matt Guidera Rocklin Motorsports Buell 7.041 184.02
11. Shawn Gann Rum Bum Racing Buell 7.045 186.77
12. Joe DeSantis Team Joey D Suzuki 7.054 183.07
13. Mike Berry MB Machining/ LAT Racing Oil Buell 7.067 188.33
14. Katie Sullivan Gann Custom/Sullivan Racing Suzuki 7.113 187.23
15. Michael Phillips MPR & Damn Sport Suzuki 7.114 193.93
16. Wesley Wells Kendall Suzuki 7.168 188.54
Did Not Qualify
17. Redell Harris Master P/No Limit Record Suzuki 7.173 182.35
18. Jim Underdahl Suzuki Extended Protection 7.194 190.75
19. Junior Pippin Stone Mountain & Granite Mountain
Harley Davidson Buell 7.208 189.66
20. Bailey Whitaker Rum Bum Buell 7.977 185.59
21. Ryan Schnitz Team Muzzy Kawasaki 9.329 183.22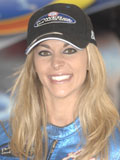 NHRA Pro Stock Motorcycle racer Angie McBride has a new sponsor, just in time for the Carolinas Nationals. The Charlotte based Carolina Speed indoor football team will be the primary sponsor for McBride's Smith Racing Buell. The sponsorship comes just in time for the inaugural race at the new zMax Dragway at Lowes Motor Speedway, September 11th through 14th. The race will introduce the Charlotte area to the NHRA POWERade Racing series.
The new sponsorship comes on the heels of McBride's greatly improved performance at the U.S. Nationals in Indianapolis nine days ago. With only nine race entries so far this season, McBride found some extra speed in her Buell and qualified eleventh out of a field of 27 entries. After surviving the five qualifying rounds, McBride defeated Angelle Sampey in the first round of eliminations on race day. McBride was eliminated by Andrew Hines, who is currently second in Championship points, during the second round of eliminations. McBride currently sits 15th in NHRA POWERade Championship Points.
The Carolina Speed will host a meet and greet at Carolina Autosports in Concord on Wednesday September 10th, where fans can meet Angie McBride and teammate Matt Smith, who is the defending NHRA Pro Stock motorcycle champion. Fans are encouraged to come out to the Carolina Autosports location at 829 Church St. in Concord from 11-6pm to meet with the two drivers where they will be on hand signing autographs with their bikes on display.
Visit the Carolina Speed website.
Chris Rivas was the fastest rider in both qualifying sessions on Friday at the Lucas Oil NHRA Nationals in Brainerd, Minnesota. Rivas ran a 6.992 second E.T. on his Drag Specialties / S&S / G2 Buell during the first qualifying session. In the second round of qualifying, he backed up the first run with an even quicker 6.979 second E.T at 190.00 MPH. Chris Rivas currently sits 4th in the points standings with 569 points, 193 points behind points leader Andrew Hines.
Matt Smith was also fast and consistent in the Friday qualifying sessions. His NitroFish / Torco Buell ran a 6.997 second E.T. in the first round, followed by a 6.985 second E.T. at 188.94 MPH in the second round. Smith is currently second in points with 689, which is 76 points behind the leader.
Hector Arana qualified third in both sessions, locking up Buell's hold on top three slots. Andrews Hines took the 4th slot in both qualifying rounds on his V-Rod.
Qualifying will be shown on ESPN 2, August 9th from 8:30 P.M.-10:30 P.M. Eastern Standard Time, with eliminations broadcast on Sunday August 10 from 7:00 P.M.-10:00 P.M. EST.
Hector Arana rode to victory on his Lucas Oil Buell at the 2nd annual Summit Racing Equipment NHRA Nationals in Norwalk, Ohio today. Arana ran a 7.027 second E.T. at 187.60 MPH to beat the 7.061 second E.T. at 187.83 MPH run by Craig Treble on his Team Tigue Suzuki in the final round. Arana's reaction time at the light was 0.014 versus Treble's 0.015.
Arana made to the final round by defeating top qualifier Eddie Krawiec in the semi-final by 0.010 of a second. Craig Treble made it to the final round by defeating Steve Johnson's Snap-On Tools Suzuki with a 0.0015 margin of victory. Johnson had his best showing in NHRA Pro Stock Motorcycle series so far this season at Norwalk.
The weekend was plagued by water, as water seeped through the track surface on Friday resulting in cancellation of Friday's qualifying sessions, except for one round of PSM. Rain delayed qualifying twice on Saturday. Sunday was bright and sunny until more rain arrived, interrupting the racing for about an hour and forty minutes.
Chris Rivas won his first Wally at the NHRA Powerade 11th annual Torco Racing Fuels Route 66 NHRA Nationals in Joliet, IL. (Chicago) on his S & S Drag Specialties Buell. Rivas (7.051 seconds, 185.43 MPH) defeated Craig Treble (7.134 seconds, 185.38 MPH) on his Team Tigue Suzuki in the final round of the rain delayed race.
Angelle Sampey had a perfect 0.000 reaction time during second round elimination, which was a byerun, because Shawn Gann unable to make the run after going off the end of the track in the prior round against Matt Smith. Gann reported that the high wind almost blew him off of his Suzuki.
NHRA newcomer Valerie Thompson is looking for your help choosing the paint scheme for her brand new Eye-On - The Real Security Company, S&S powered Buell NHRA Pro Stock Motorcycle. Valerie, racing out of Scottsdale, Arizona, has 21 different color scheme choices designed by Eddie Hollon, of Eddie Hollon Designs, on her site and she is asking for your help in picking the scheme you'd like to see (with a Wally perched on it). I prefer design B3 (pictured below), but choose your own favorite and let Valerie know at her website, Valerie Thompson.com.

Illustration courtesy of Valerie Thompson Racing
The Old Glory AHDRA Pro Stock / Pro Gas Buell motorcycle has been listed for sale on eBay. The bike was owned by Jim "Homer" Simpson, who passed away earlier this year. The bike ran a record ET of 7.399 seconds at the 2005 Kresto Pacific Nationals, Pacific Raceways, Seattle. The pilot of this bike was Dale Raudenbush.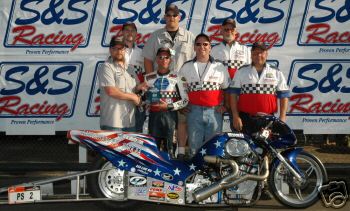 The bike is powered by a 5" bore x 4.075" stroke, 160 c.i. fuel injected V-twin. The bike is listed as ready to go with only one run on the motor, spare parts, and the tuning records. Click here for more information on this drag bike, the technical details and the spare parts included.
Good news for four-time AHDRA champion Junior Pippin: PiranaZ has signed on as a sponsor of his Granite Mountain Harley-Davidson and Stone Mountain Harley-Davidson Pro Stock Motorcycle race team for the 2008 NHRA POWERade Drag Racing Series.
From NHRA:
"We were looking to do a bike and had negotiated with other teams,"said Mark Whisnant, owner of PiranaZ. "We decided that [Junior Pippin Racing] was a good fit."