(updated 2/17/08) The bike has been sold.
A guy on Ebay is selling his 2000 Suzuki Katana Pro Stock Bike complete with engine. At the time of this posting, the price has only been bid to $3,550.00. The poor guy made his wife mad and has to sell it to maintain domestic tranquility. His loss could be your gain if you are looking to go drag racing on a NHRA Pro Stock Motorcycle, its for sale at a low price.
Click on the picture to see more photos and read more about the bike.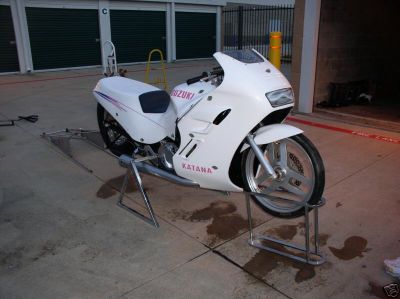 The owner believes the bike has a Koenig chassis and states that the front end is definitely from Koenig.
The bike has a 1600CC mountain motor, MTC block, ART LOCK UP, Lectron Carburetors, and a 1-2-3 auto transmission.
See the bike and learn more about it.
NHRA Pro Stock Motorcycle racer Angelle Sampey's US Army race leathers, helmet,and team shirts are up for auction. The race gear features the US Army and Suzuki logos. The three-time Pro Stock
Motorcycle Champion is selling some of her team gear to raise money for primate rescue organization Junglefriends.org, an orphanage in China, and to help defray the costs of adopting a girl from the orphanage.
To learn more about what Angelle is up to in the off season and her interest in Jungle Friends Primate Sanctuary in Gainesville, FL check out her blog at NHRA.
At auction is Angelle's custom made, and race worn, Impact Racing helmet, her Vanson Leather racing leathers, and a few team uniform shirts. The items have all been worn and autographed by Angelle Sampey.
Updated 1/28/2008: The helmet and leathers auctions have closed, but the Sampey's have listed some additional rarities, such as Angelle's Winner's Circle Jacket, a team shirt from her first race team, and an NHRA Winston Champion's Champagne Bottle.
Updated 1/23/2009: Angelle has hit some delays in the adoption process, you can read more on her blog at NHRA.
She's also listed more of her autographed uniforms and winner's swag on eBay.
| | |
| --- | --- |
| Choose your country: | Change Sort Order: |
Previous auction closing prices from Jan. 2008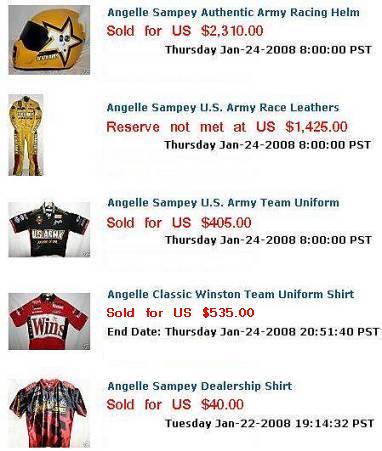 You'll need a tethered kill switch to shut your engine off in case the rider leaves the motorcycle during a drag race. These emergency kill switches, also know as "dead man switches" or lanyard/kill switches, are required safety in most classes of motorcycle drag racing. The switch helps prevent the bike from getting into a runaway situation if the rider prematurely gets off of the bike. The links below will open the kill switch for sale on eBay in a new window.
If you are serious about building and racing your own Pro Stock Motorcycle, then check out these suppliers for parts or bikes, but only if you're inquiry is serious. These are racing professionals who make their living from motorcycle drag racing, not from answering trivia questions, so please be considerate of their time.
Kosman Specialties – Carbon fiber wheels for Harley V-Rods and other makes, mid controls, frames, rolling chassis, and accessories.
Check out their G Squared Motorsports / S & S / Kosman Buell Drag Bike Race Package

Steve Johnson Racing
Flea Market & Suzuki and Kawasaki Pro Stock Bikes and Parts for sale. Steve Johnson Racing also offers a Pro Stock Bike rental.
G Squared / G2 Motorsports / Star Racing Drag Bikes for sale
Precision Metal Fab Racing – Rolling Chassis, wheelie bars, brakes, forks, and more.
Suzuki and Kawasaki race bikes by Koenig Engineering
Ward Performance – Vortex Racing Heads
Frank Hawley Drag Racing School - Pro Stock Motorcycle Courses, learn to race
Vance & Hines Motorsports
Price List for V-Rod Engine services
Fast by Gast - Drag Racing Motorcycle Parts by Paul Gast

CycleDrag.com is a website devoted to the most compelling stories in the exciting world of motorcycle drag racing.
Dyna Shift Minders for sale at great prices. Hit better gear changes with these shift indicator lights and improve your times. The links below will open in a new window on eBay with the full description of the Dyna Shift Minder for sale.
Dyna Shift Minders / Shift Indicators

Dyna Ignition Systems and Dyna coils for sale at great prices. The links below will open in a new window on eBay with the full description of the Dyna Ignition system or coil for sale.
Dyna Ignition Coils
Dyna Crank Trigger
Kawasaki KZ-1000 Drag Bike parts for sale. Buy KZ 1000 engine and transmission parts. Clicking a link below will open a description of the Kawasaki parts in a new window on eBay.
| | |
| --- | --- |
| Choose your country: | Change Sort Order: |