Eddie Krawiec, racing on his Screamin Eagle/Vance & Hines V-ROD, defeated Michael Phillips' MPR & Damn Sport Suzuki in the final round to win the Toyo Tires Nationals at Maple Grove Raceway in Reading, PA. Phillips final round appearance was hampered when he shut down early. Michael Phillips damaged his in engine in the semi-final round against Bailey Whitaker, and borrowed Steve Johnson's engine to race in the final.
Krawiec also cemented his 3rd place spot in the Ringers Gloves Pro Bike Battle points standings. Krawiec will face off against 6th place Craig Treble in the Pro Bike Battle September 5th at the Mac Tools U.S. Nationals at Indianapolis.
Krawiec secured the top spot in the Countdown to One during a race weekend that NHRA thought would never end. Race qualifying ended prematurely on Friday due to rain. On Saturday, qualifying resumed, only to be stopped for water seepage at the far end of the track. The Safety Safari and track worked clean and dry the track so that qualifying could continue. Saturday's qualifying sessions ended early as the rain began to fall during the third round of PSM qualifying. Sunday's final eliminations were plagued with major delays due to the water seepage issue again. Maple Grove Raceway issued a formal apology to fans and racers for the delays due to water seepage, as well as announcing plans to repair the track to prevent a recurrence.
In a Harley-Davidson versus Harley-Davidson final round, Eddie Krawiec defeated Andrew Hines to win the Ringers Gloves Pro Bike Battle. The Battle was held Saturday during the NHRA POWERade Drag Racing Series, 54th annual Mac Tools U.S. Nationals in Indianapolis, Indiana. The Ringers Gloves Pro Bike Battle gives the top eight riders in Ringers Gloves Pro Bike Battle Points earned during the season a chance to race for the $25,000 first place prize, from a total purse of $76,000.
This year's competitors were:
Chip Ellis
Matt Smith
Andrew Hines
Eddie Krawiec
Angelle Sampey
Karen Stoffer
Chris Rivas
Matt Guidera
Angelle Sampey's bike broke at the line when the bike had a clutch issue that kept her from holding the bike still, handing the first round win to Kraweic. Krawiec's teammate Andrew Hines defeated Karen Stoffer in the first round. Kraweic got another break when Chip Ellis took a red light during the second round of the battle. Andrew Hines defeated Matt Smith to get in the final round against his teammate.
The final round match-up of both Vance & Hines Screamin' Eagle Harley Davidson V-RODs was decided as soon as it began. Andrews Hines' reaction time of -0.011 seconds tripped the red light and gave Krawiec the $25,000 prize and trophy. Hines' day didn't end too bad though, he gets to walk away with a $10,000 runner-up prize.
The Old Glory AHDRA Pro Stock / Pro Gas Buell motorcycle has been listed for sale on eBay. The bike was owned by Jim "Homer" Simpson, who passed away earlier this year. The bike ran a record ET of 7.399 seconds at the 2005 Kresto Pacific Nationals, Pacific Raceways, Seattle. The pilot of this bike was Dale Raudenbush.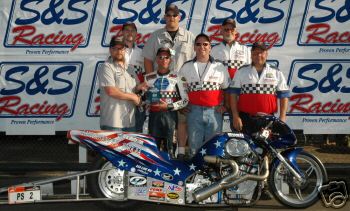 The bike is powered by a 5" bore x 4.075" stroke, 160 c.i. fuel injected V-twin. The bike is listed as ready to go with only one run on the motor, spare parts, and the tuning records. Click here for more information on this drag bike, the technical details and the spare parts included.
AHDRA has a great write-up on the final results for their season opener at Gainesville February 29 through March 2. The article has far more information than I can summarize, but it looks like they had a great turnout.
Screamin' Eagle Top Fuel category
In the final, he (Mark Conner) was paired with Joe Timmons, Salt Lake City Harley dealer and No. 10 qualifier. Timmons earned his way there after upsetting No. 2 qualifier Romine in the first round and the No. 3 qualifier, Steve Dorn, in the semi.

Conner was out first with a .030 and made his win look easy with a 6.68 at 189 mph over a troubled 8.82 at 108 mph from Timmons.
Go to AHDRA to read how the Pro Fuel and Pro Drag classes finished and the full race results.
Doc's Harley-Davidson, Missouri's oldest exclusive Harley-Davidson dealership, is partnering with three-time POWERade champ Angelle Sampey and Karl Klement Racing for the 2008 NHRA Pro Stock Motorcycle tour. "I'm very excited to represent a dealership," said Sampey, a motorcycle dealer herself. "My dad's been riding Harley-Davidsons all my life, so I'm really excited about it."
Based just outside of St. Louis in Kirkwood, Doc's is the number 1 (out of 682) Harley-Davidson dealer in the country for the new purchase experience over a rolling 12 month average. Interestingly, Doc's is also owned by a woman--Pat Bush. "Pat rides, used to drag race, and loves Pro Stock Motorcycle racing," said Doc's marketing director Rich Blosser. "She's attracted to the idea of Angelle as a woman rider...
Read the full story at RestrictorPlateThis.com
The March 29-30 race in Phoenix will be held at Speedworld Dragstrip in Wittman, AZ, instead of Firebird Raceway.
AHDRA has announced that it cancelled the previously scheduled events in Pomona, CA and Las Vegas, NV, in 2008. The Las Vegas race had a scheduling conflict with another event at Las Vegas Motor Speedway. Canceling Las Vegas impacted the tour and Pomona had to be cancelled too. The last event of the season will now be at Rockingham Dragway, Rockingham, NC October 10-12, 2008.
More information can be found at AHDRA
1/9 Scale diecast Pro Stock Bikes for sale. These collectible Harley Davidson and Suzuki drag bikes will make an excellent gift and look great on your desk. The links below will open in a new window on eBay with a full description of the diecast Pro Stock motorcycle for sale.
Here's your chance to get a 1/9 Scale diecast Prostock Bike in your favorite rider's colors. These collectible Vance & Hines Harley Davidson and Suzuki drag bikes will make an excellent gift and look great on your desk.